Executive Limo Bus - Shuttle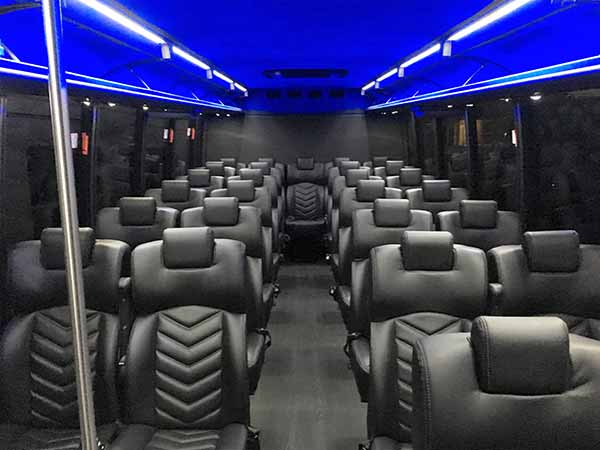 Executive Limo Buses / Executive Shuttle Buses
The Executive Shuttle Bus (Limo Bus) is a shuttle bus taken to the Nth degree. Executive Shuttles feature the power of buses while having the highest quality of amenities featured in Limousines and Party Buses. These, however, are designed for ferrying large parties in absolute comfort. From ultra-plush "Captain's" chair bucket-seats with all of the leg-room of a business-class airliner, to the amenities ideal for a corporate outing such as a large flat-screen and surround sound system for presentations en-route to the bar and other necessary elements for relaxing and enjoying your ride. They also feature comfortable bathrooms which make longer trips easier while also featuring tech-features from plugs for laptops and chargers for other electronics. As always the entire cabin is climate controlled with a roof-HVAC system for the perfect temperature at any time of the year.
---
24 Passenger Limo Bus / Shuttle
It is ultra modern and sleek, perfect for any group celebration accommodating up to 24 passengers in luxurious wrap-around limo seating with a drink cooler area in the rear while you have forward facing luxury reclining seats in the front of the bus. 2 tables near the front of the bus make for a perfect meeting or work space as well. Rounded off with wood floors, ample headroom while standing and easy access getting in and out. This executive limo bus is fully-loaded with the latest technology including 2 large flat screens, Bluetooth/iPod connectivity, sound system and ambient lighting.
Deluxe concept design, executive luxury bus
This Limo Coach is as versatile as it is beautiful.
Can serve a party, wedding, or corporate group with ease
In the rear there is VIP Limo seating for 8-10 guests
Custom built-in ice cooler
State of the art entertainment system with surround sound and subwoofers
Bluetooth enabled stereo AM/FM/CD/DVD/auxiliary
42 inch television screen
In the front are 16 reclining, leather bucket-seats with arm and head rests
Two built-in tables for business or pleasure
24 inch television screen in the front
Special-effect mood lighting and color changing ceiling and back wall
Separate outside luggage compartment
Click here to learn more about our 24 Passenger Limo Bus
---
27 Passenger Limo Bus - Shuttle
This vehicle features stylish, high-back leather reclining seats in a 2-by-2 seating configuration separated by a wood floor center aisle. Additional passenger comforts include tons of spacious leg-room between rows, overhead reading lights, overhead storage, 110V/USB power outlets and large front-view and side passenger windows. This vehicle comes equipped with A/C, LED ambient lighting, lap seat belts, premium sound system, DVD and 4 display monitors, plus a generous rear storage compartment capable of holding everyone's luggage. Tour groups will appreciate the easy-access, extra-large cooler to chill beverages
Capacity: 27
Panoramic front viewing window
Frameless coach windows
Electric plug entry door
DVD player
4 viewing screens
Premium rear audio
Roof-mounted HVAC
LED interior / exterior lighting
Passenger-retractable seat belts