Large Party Buses (Luxury Limo Buses)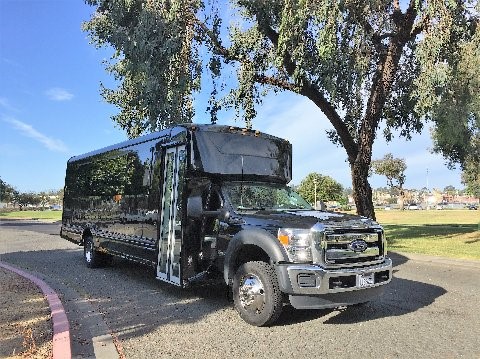 Party Buses have become the entertainment center on wheels. These large buses feature extremely comfortable lounge seating with additional amenitues such as mood-lighting, climate-control, bars and more... all while featuring top-level Hi-Fi sound and video systems.
Party Buses are ideal for the night out on the town in San Francisco or the Bay Area or for celebrating with friends or family en-route to a wedding, prom, bachelor(ette) party or dancing from vineyard to vineyard on our Napa Valley and Sonoma Wine Tours.
We offer the following Large Party Buses for parties of up to 20 passengers.
If you require travel for more than 20-people click here.
---
14-Passenger Large Party Bus (Luxury Limo Bus)
Our 14-Passenger Party Bus offers all of the luxurious comforts and amenities of a limousine with far more features, seating and space. Ride in style while enjoying plush leather seating, full bars, a full entertainmen section from 2 flat panel TV's, full Hi-Fi stereo surround sound mood lighting and all of the tech access you'll need from plugging in your laptop or smartphone to having modetn safety equipment to help secure you and your party.
Perimeter Style Leather Seating

Interior LED Color Lighting

2 Onboard TVs

DVD Player

Air Conditioning

High Quality Sound System

AM, FM, CD, DVD, 2-Tv's-15"and 36"

wall to wall Carpet

Cooler

2 wet bars
---
15-20 Passenger Large Party Bus (Luxury Limo Bus)

Our 15-20 Passenger Party Bus takes it a step futher with more space and more ultra-luxury leather perimiter seating, larger flat-panel screens, more spekers thoughout and complete climate-control with a built-in powerful HVAC system. Our 15-20 passenger Party Bus is ideal for large partys who want to relax and enjoy the ride while our experienced chauffeurs do the driving.
Spacious Limo Bus Interior

Ultra-luxury Comfort

2 Large Flat Screen TV's (44"& 17")

iPod DVD/CD Player inputs

Smart-Phone Docking

Concert Quality Surround Sound Stereo

12" Subwoofer System

GPS Satellite Navigation

Extensive Mood Lighting
Click here to learn more about our 15-20 Passenger Party Bus
---
Whether you want to have fun for Prom or you want to relax on a Wine Tour of Sonoma or Napa Valley Wine Country, Million Services large-party Bus Rentals has you covered.
Our Party Bus amenities include hi-fi video and audio systems, luggage area, restrooms, ultra-comfortable seating and much more.
Enjoy our Chauffeured large-party Buses for weddings, proms, bachelor/bachelorette parties or just a night out on the town. Whether painting the town red or enjoying a little red wine on our Wine Tours of Napa Valley, Sonoma and the Wine Country, you'll be traveling in style.
Contact us today (using the convenient form below) for rental questions and pricing.
See why we have a 5-Star rating on Yelp and scores of happy customers!
Party Bus: The large-party Bus Limo is a new concept in luxury travel; also referred to as Limo Bus, or large-party Van, Limousine Bus, or Luxury Bus.
Tags: Large-party Bus Rental, San Francisco large-party Bus Limo, Bay Area large-party Bus, Napa Valley large-party Bus Limo, Limo Bus Wine Tours