Why choose us?
Experience Counts
With over 25 years experience in providing Limousine (and now large-party Executive Bus) services to San Francisco and the bay area, Million Services offers a fleet of immaculate limo buses and limousines to take your party to its detsination in style and comfort.
We have extensive knowledge of Sonoma and Napa Valley Wine Country, San Francisco, Bay-area freeways, and alternative roadways for time-sensitive scheduling. You can count on Million Services to handle your every need with efficiency and elegance.
Large-party Bus Limos & Stretched Limousines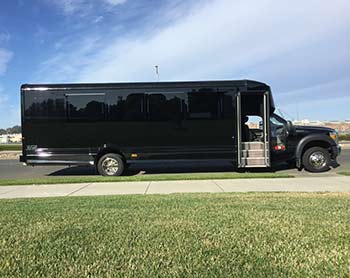 A large-party Bus Limo (Limo Bus, Executive Bus) is a luxury bus with all of the amenities of a limousine yet it has considerably more seating and room than a stretched limousine. A large-party Bus Limo can accommodate far larger parties which makes it perfect for weddings, executive events and large outings.
Million Services' fleet of Multi-party Buses and Limousines has been satisfactorily servicing the limo and limo bus needs of clients in the San Francisco Bay Area, Sonoma and Napa Valley Wine Country for many years. Our vehicles are professionally cleaned, maintained and serviced to ensure the very best in comfort, convenience and safety for your special outing.
Whether you're wishing to take a Napa Valley Limo Bus Wine Tour or are seeking a luxury limousine, limo-bus or sedan for your Wedding, Bachelor or Bachelorette Party or Corporate Event, we have the right solution.
Please review our Limousine and Limo Bus services for San Francisco, Napa Valley and Sonoma County and the rest of the Wine Country.
Featured Articles and Content: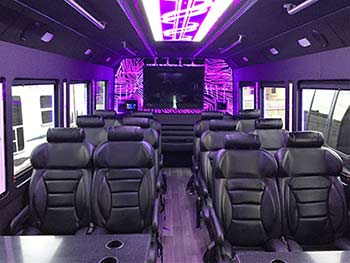 Napa Valley Wine Tours by Large-party Limo Bus
Enjoy the best vineyards & wineries for a range of great wine-tasting, sight-seeing and luxurious comfort at some of Napa, Sonoma and the Wine Country's best spots.
Multi-party Bus and Limo rental in the San Francisco Bay area
Our large-party Bus and Limousine chauffeurs are always on-time, courteous and knowledgeable about the best routes, restaurants and sights in San Francisco and surrounding areas.
A Night Out on the Town
By far the best way to enjoy a night out on the town in the city. Ride in style and class in a stretched limo, multi-party bus or sedan.
Bachelor / Bachelorette Parties
Ladies and gentlemen alike can treat themselves and guests to a safe and fun adventure in one of our ultra-fun and luxurious limo-buses.
Multi-party Bus/limo bus or Limousines for Business
Much of our service caters to business VIP's and we know well how to make our clients feel comfortable while we handle everything else.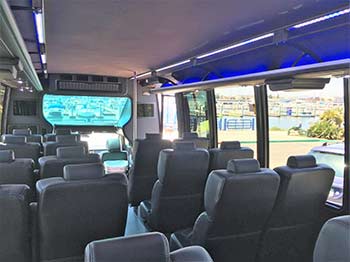 Wedding-party Buses and Limousines
The special day must go well so we take care of the travel so you can focus on family and building lasting memories while your wedding party rides in luxury and comfort. Your amazing day is in great hands!
Sonoma & Napa Valley Wine Tours (Wine Country)
Wine tastings and tours are a must in Northern California. Visit the vineyards and wineries in style, comfort and safety.
Airport Transit / Pick-up and Drop-off (SFO Limousine Service)
Our airport transfers, pick-ups and drop-offs to and from SFO are the way to beat the traffic. Our drivers know the fastest routes, getting you to your flight or hotel quickly.
Limousines for Funerals and Wakes
We know well how difficult such occasions are and our staff are there to take care of your travel requirements so that you can focus on your family, friends and thoughts.
Customers First
Our unique approach to limousine transportation and Wine Country tours has proven successful with an overwhelming rate
of repeat business from satisfied customers and over 200 5-Star Reviews on Yelp.com!
Our Limousines, Party Buses, Executive Limos and Sedans are all sanitized and clean before every trip.
NOTICE DURING THE CORONAVIRUS S.I.P. EXECUTIVE ORDER REGARDING ESSENTIAL TRANSPORTATION
During the San Francisco 2020 Executive Shelter-in-Place order due to the Coronavirus / Covid-19 Pandemic we are providing government authorized "essential transportation services" for businesses and individuals. All of our vehicles are being regularly cleaned and sterilized using a multi-level process while all social distancing and other requirements are also being effectively followed while providing our clients with the utmost in comfort and service.
Whether for corporate travel (including airport pickup/drop-off, meetings and other essential business travel) , essential medical travel, essential legal travel (such as to court), or for personal travel which comforts to the regulations for essential activities, Million Services "Essential Transportation Services" web portal is now available with information on providing you with the same 5-Star services while always keeping your safety first and your travel luxurious. Essential Transportation Services also offers group travel with safe-distancing and all legal requirements as well while our vehicles are all cleaned, disinfected and sterilized regularly using non-toxic chemicals..
Call now for information on our Napa Valley, San Francisco and Sonoma Wine Country Tours by Limo and our large-party buses:

(415) 724-3246
Thank you for your interest in Million Services (TCP 25097) Limo Bus and Limousine service; we look forward to serving you!