San Francisco Executive Limo Bus, Large Party Bus & Stretched Limousine Rentals
"5-Star" Rating on Yelp!
Large-party Bus Rentals in San Francisco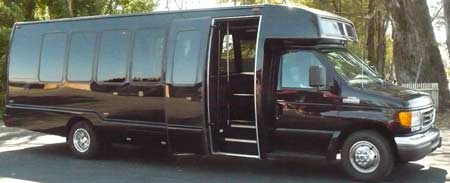 From the Golden Gate Bridge to China Town; from the Fisherman's Wharf up to Market Street and the Financial District, San Francisco is a beautiful, fun and cultured town. If you're a local who wants to go out on the town in style or visiting the City by the Bay and want to experience its wonders - then our San Francisco large-party Bus Limo is the ideal choice. A Bus Limo or Executive Bus has all of the comforts and luxury of a limousine yet with far more room.
Million Services has provided Limo Service to San Francisco for more than 25 years. We pride ourselves on being on-time, courteous, professional and highly knowledgeable about the city and its many restaurants, clubs, events, and cultural attractions. Our staff are locals so we have connections at many of the best venues in San Francisco and are able to provide our clients with the added benefit of insider access to many of the hottest venues in town, whether short-notice restaurant reservations or red-carpet access into trendy night clubs.
Business and Entertainment Limousine and large-party Bus Rentals:
For those in the business or entertainment world who require the absolute best, we offer priority Limo and large-party Bus rental services. We've catered to many a business traveler and we understand their desire for top-flight service, reliability, luxury and security.
A Stretch Limo or large-party Bus for Your Wedding:
Having the right Wedding Party Bus or Limo can make your special day that much more carefree.
Among the most important moments in life is the taking of vows and we've had the honor and pleasure of driving many wedding couples over the years. We understand that the lucky couple has a lot on their minds so we make sure that everything is taken care of from start to finish. Whether just the couple in a romantic drive in a strech limousine or the family, friends, brides maids, or best men or the whole wedding party in a Limo Bus, we have all angles completely covered. We can pick up and drop-off at the airport, shuttle to and from the wedding or drive the couple as their personal chauffeur. Contact us directly for a custom Wedding package - even for large groups and even on short-notice!
Prom Night Limousine and large-party Bus Services:
For those seeking to have an amazing time during their Prom we offer one-of-a-kind Prom Bus service as well as our Prom Limo service, allowing San Francisco's up and coming stars to shine on this incredibly important night with safe and reliable drivers to take care of every aspect so that our passengers can focus on having the time of their lives.
Million Services: Simply the Best Limo and large-party Bus Service in San Francisco.
For the best limo service in San Francisco (or to ride in style in one of our San Francisco Executive Buses) contact us today. We customize each situation to your specific needs.
San Francisco Bus Limo and Stretched Limousine Information and Rental Reservations: 1-415-724-3246