Our Fleet of Executive Limo Buses and Stretched Limousines
Note: During the current Coronavirus/COVID-19 travel restrictions placed by the Governor, all of our luxury vehicles are available for essential business travel, essential medical travel, essential legal travel, as well as personal and group travel for essential activities all while using all necessary precautions as prescribed by law. Our vehicles are regularly cleaned and sterilized using both non-toxic and natural chemicals as well as medical-grade UV light treatments.

Stretched Limousines
We carry a number of late-model stretched limos for that superb level of classical opulence. Our limousines feature all of the amenities one desires from the ultra-comfortable seating to the full bar and ice chest to the high-end tech accoutrements including Hi-Fi audio and video (flat screen) and more.
Our stretches are the modern version of an elite classic. Click here to learn more about our Stretched Limousines.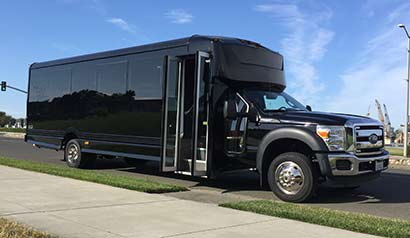 Party Buses
Party Buses have become the entertainment center on wheels. These large buses feature extremely comfortable lounge seating with the additional elements such as mood-lighting while featuring top-level Hi-Fi sound and video systems.
Party Buses are ideal for the night out on the town in San Francisco or the Bay Area or for celebrating with friends or family en-route to a wedding, prom, bachelor(ette) party or dancing from vineyard to vineyard on our Napa Valley and Sonoma Wine Tours.
Our Large Party Buses are sleek and luxurious. Click here to see our stable of Party Buses and their amenities.
Executive Buses / Limo Buses
The Executive Shuttle Bus (Limo Bus) is a shuttle van taken to the Nth degree. Executive Shuttles feature the power of buses while having the highest quality of amenities featured in Limousines and Party Buses. These, however, are designed for ferrying large parties in absolute comfort. From ultra-plush "Captain's" chair bucket-seats with all of the leg-room of a business-class airliner, to the amenities ideal for a corporate outing such as a large flat-screen and surround sound system for presentations en-route to the bar and other necessary elements for relaxing and enjoying your ride. They also feature comfortable bathrooms which make longer trips easier while also featuring tech-features from plugs for laptops and chargers for other electronics. As always the entire cabin is climate controlled with a roof-HVAC system for the perfect temperature at any time of the year.
Executive Limo Buses take corporate travel to a new high. Click here to see our stable of Executive Buses and their amenities.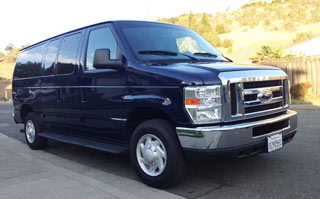 Executive Shuttle Vans & Sedans
The standard for executive travel in style around town and to the Wine Country, the classic chauffeured sedan or larger van offers the comfort and luxury with the perks of executive travel. Our drivers are always punctual, knowledgeable and courteous and our service is always top-notch.
Ride in luxury and style. Click here to see our stable of Executive Shuttles and Sedans and their amenities.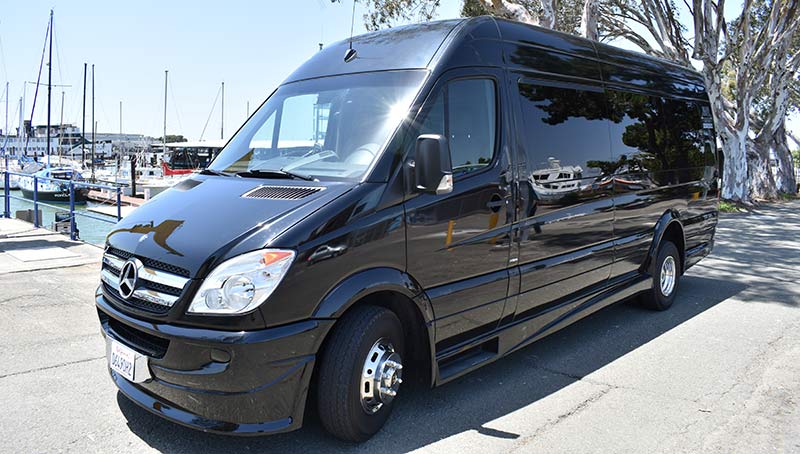 Mercedes Sprinter Van
The Mercedes Sprinter is an ultra-luxury executive van for those who like to add the extra touch of style and comfort with the additional bells and whistles. With seating for up to 12 passengers, climate-controlled salon
World renowned for its comfot and luxurious style. Click here to learn more about our Mercedes Sprinter and its amenities.